2022 has started with a flurry (pun intended) of activity! Between the weather, the pandemic and post holiday blues, we all need something to look forward to. So…mark your calendars for these events. We have in person, virtual and hybrid events to fit YOUR comfort level.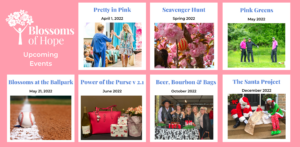 While we are still in the planning phase with many of these projects, information will be posted to our website, social media and sent in an eblast as we line all of the details up. You can find out more about our events by following this link.
Each year we hold these events to support the community — both in having fun and raising funds for several local nonprofits. This year is no different and we continue to need some amazing corporations and individuals to sponsor an event, multiple events or to become a Blossoms of Hope Sponsor. To learn more about our many sponsorship opportunities, click here.
Most of our events have prizes or auction gifts and we need help to secure fun and exciting items. We will be soliciting donations in the next couple of months, but if you have a gift certificate, a purse, something to put in an auction or even something we can use during the Scavenger Hunt to hide in the trees, please email Vera at vera@blossomsofhope.org.
Blossoms of Hope looks forward to seeing you again in 2022!
For now, stay warm and safe,
Blossoms of Hope's Board of Directors and staff