Blossoms of Hope's Springtime Scavenger Hunt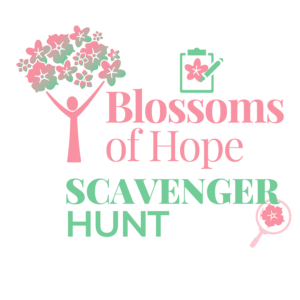 3rd Annual Scavenger Hunt
April 16 - May 14, 2023
We have scheduled the 3rd annual Scavenger Hunt for this spring when the cherry blossom trees are in bloom! Stay tuned for more information about the Scavenger Hunt coming soon.
Where will you get the supplies necessary for the hunt?
Once you register, you will receive an email with details of how you can pick up your tote. The tote contains the Scavenger Hunt card that you can mail in when complete for a chance to win prizes.
To arrange tote pickup, please email us at info@blossomsofhope.org.
ALL participants will be entered for a chance to win prizes. Participants who tag Blossoms of Hope on their social media posts will earn additional chances to win! Prize details will be announced soon!
For more information, email Blossoms of Hope below.
Sponsorships are available to help make this a successful FUNdraising event. Blossoms of Hope provides a broad exposure for our sponsors as well as always a good time.
Your sponsorship is valuable to the success of Blossoms of Hope's mission. There are several different levels available with guaranteed exposure for all. We hope you find one that is perfect for you or your company. Please click the "Sponsor Opportunities" button to learn more.
New this year! Blossoms of Hope has expanded the Scavenger Hunt to include small businesses within Howard County. If you are interested in having your business be a part of the Scavenger Hunt, please click the "Location Partners" button below to learn more.

What is the Scavenger Hunt?
The Blossoms of Hope Scavenger Hunt is an outdoor, family-friendly event highlighting some of our 51 groves during the spring when the cherry blossom trees are at their most beautiful. While the exact dates of the event vary year to year, you can be sure that it will be a great way to kick-off the spring.
Families/couples/roommates/solo adventurists will be able to explore the Blossoms of Hope tree groves throughout Howard County. An added twist will be hidden treasures in trees in the groves. Clues will be provided to help find each item in the groves and prizes are plentiful.