Blossoms of Hope's Springtime Scavenger Hunt
Find gnomes, flying pigs, wind chimes and more in 15 of Blossoms of Hope's groves while enjoying the pink blossoms. Dates and details will be available in January 2024 where you can join the hundreds of hunters on a journey while also enjoying time with family and friends in Howard County.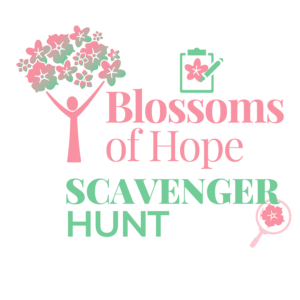 Sponsorships are available to help make this a successful FUNdraising event. Blossoms of Hope provides a broad exposure for our sponsors as well as always a good time.
Your sponsorship is valuable to the success of Blossoms of Hope's mission. There are several different levels available with guaranteed exposure for all. We hope you find one that is perfect for you or your company. Please click the "Sponsor Opportunities" button to learn more.
New this year! Blossoms of Hope has expanded the Scavenger Hunt to include small businesses within Howard County. If you are interested in having your business be a part of the Scavenger Hunt, please click the "Location Partners" button below to learn more.

What is the Scavenger Hunt?
The Blossoms of Hope Scavenger Hunt is an outdoor, family-friendly event highlighting some of our 51 groves during the spring when the cherry blossom trees are at their most beautiful. While the exact dates of the event vary year to year, you can be sure that it will be a great way to kick-off the spring.
Families/couples/roommates/solo adventurists will be able to explore the Blossoms of Hope tree groves throughout Howard County. An added twist will be hidden treasures in trees in the groves. Clues will be provided to help find each item in the groves and prizes are plentiful.